Free Scheduling Software for nurses.
Create and send nurse rosters online for your small business with our easy-to-use software. The #1 online scheduling tool for nurses and healthcare professionals.Get Started Rostering in Minutes.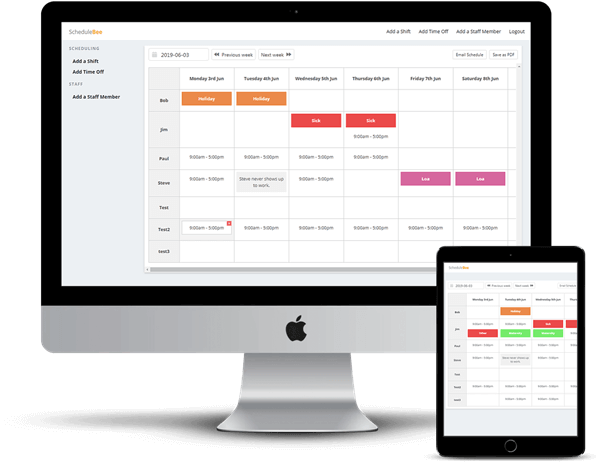 Easy Rostering Software for Nurses, Doctors and healthcare professionals.
Spend less time creating employee rosters and more time focusing on your business.
Easily Manage Shifts
Easily add, edit, and remove shifts for your employees.
View your schedule week by week and see who is working when at a glance. Create staff rosters online with our easy staff roster generator.
Invite Your Staff
Optionally invite your staff members to create their own ScheduleBee account to view, and optionally edit schedules.
Print & Send
Save time by emailing your schedules directly from ScheduleBee.
Send schedules to individual employees, or everyone at once in one click with no email settings required.
Areas & Positions
Need to adjust your roster on the fly? ScheduleBee works on all devices, big and small. Your data is synced to our secure cloud and is accessible anytime, anywhere.
Frequently Asked Questions
Is there a minimum monthly spend?

ScheduleBee is free for under 5 staff members, not including your administrator/manager account. If you add more than 5 employees, you will be asked to purchase a subscription. You can view our pricing page here.

Do I require a credit card to try ScheduleBee?

You do not need a credit card to try ScheduleBee - Simply sign up for your free account, and you will only be asked for your payment details when you exceed the free account threshold of 5 staff members.

Are there long term contracts?

ScheduleBee is a pay-as-you-go service. You can modify or cancel your plan at any time without additional charge. We don't require your credit card details until you exceed the free account threshold of 5 staff members.

In what countries is ScheduleBee available?

ScheduleBee is available in all countries. Small businesses from around the globe use ScheduleBee software for their scheduling - From Australia, United States, UK, Canada, Japan and 42+ other countries.

Can I change plans at any time?

Absolutely. ScheduleBee is a monthly-billed subscription service, and as such you are free to increase or decrease the number of employees in your system at anytime and your plan will be adjusted accordingly in the next billing cycle. There is no minimum or maximum number of employees you can have - We understand businesses can change rapidly, and we believe that your scheduling system should accommodate this.

What happens if I cancel my plan?

If you cancel your plan, you will continue to be able to use ScheduleBee for the remainder of the period you have paid for. At the end of this period, you will be required to resume your subscription to continue use of ScheduleBee.

What are the payment options?

We accept all major credit and debit cards including Visa, MasterCard, American Express, JCB, Discover and Diners Club.

How many employees can I add to ScheduleBee?

We impose no limits on the number of staff you can add to your schedule. ScheduleBee caters for all businesses, big and small. Up to 5 employees is free, beyond this each employee is $2.99USD per user per month.
Create a roster in seconds

Get up and running in 2 minutes.
or