Easy Staff Scheduling Software
Take the stress out of rostering your staff. Create Your Free Account Today.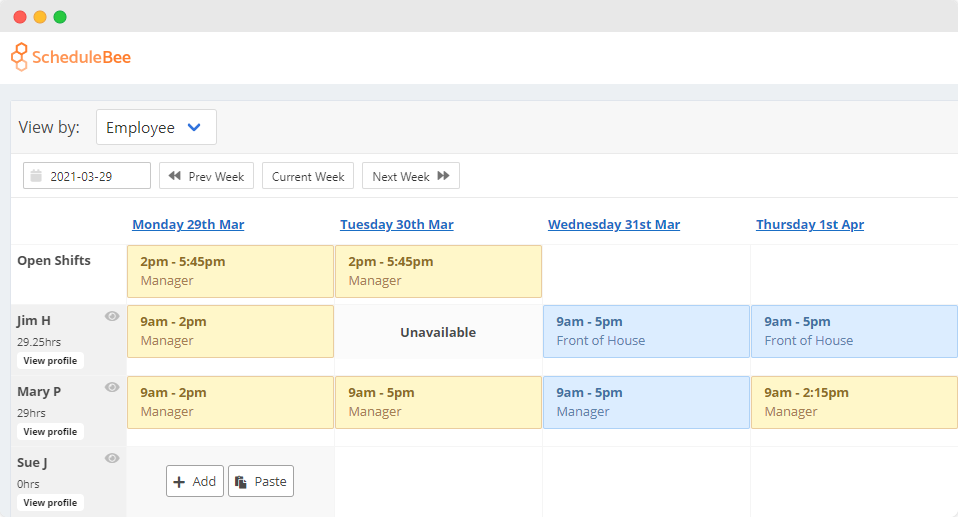 Simplify Your Scheduling
Spend less time scheduling and more time growing your business.
Easily Manage Shifts
Easily add, edit, and remove shifts for your employees.
View your schedule week by week and see who is working when at a glance. Create staff rosters online with our easy staff roster generator.
Invite Your Staff
Optionally invite your staff members to create their own ScheduleBee account to view, and optionally edit their schedules.
Print & Send
Save time by emailing your schedules directly from ScheduleBee.
Send schedules to individual employees, or everyone at once in one click with no email settings required.
Areas & Positions
Assign staff members to certain positions for each shift, which they are able to view on their roster.
Organize Past & Future Schedules
View your schedule week by week and see who is working when at a glance. Old schedules are saved on our secure SSL encrypted servers, making them easy to access at any time.
Allow Staff to Edit
Depending on your business, you may want to allow select employees to set their own, or others' schedules. ScheduleBee lets you set each employees permissions.
Copy Schedules
If your weekly schedules are very similar, save time by copying your schedules week-to-week in one click and change only the differences.
Get Setup in Minutes
ScheduleBee requires no tedious setup processes. Simply add your staff members and begin crafting their schedules. When you're done, you can email out the schedules with our servers - no email details required!
+ more
Designed For Your Industry
ScheduleBee's staff rostering software is designed from the ground-up to integrate seamlessly with businesses in all industries.
Retail & Consumer Goods
Whether you own a local sporting goods store, or a chain of clothing outlets - ScheduleBee can help you effortlessly manage your staff and increase your productivity.
Hospitality & Restaurants
Organize your waitstaff and ensure you always have enough hands on deck with ScheduleBee's easy-to-use employee rostering software.
Accomodation & Lodging
From B&B's to Luxury Resorts, it all starts with a well-crafted employee schedule. Let ScheduleBee take the stress out of managing your staff and organizing your properties.
Entertainment &
Live-Shows
A well designed schedule is crucial in ensuring all the pieces fit together to deliver a performance your guests will remember. ScheduleBee's easy-to-use platform let's you handle the schedules, so you can focus on the show.
+ more
Frequently Asked Questions
Is there a minimum monthly spend?

ScheduleBee is free for under 5 staff members, not including your administrator/manager account. If you add more than 5 employees, you will be asked to purchase a subscription. You can view our pricing page here.

Do I require a credit card to try ScheduleBee?

You do not need a credit card to try ScheduleBee - Simply sign up for your free account, and you will only be asked for your payment details when you exceed the free account threshold of 5 staff members.

Are there long term contracts?

ScheduleBee is a monthly pay-as-you-go service. You can modify or cancel your plan at any time without additional charge. We don't require your credit card details until you exceed the free account threshold of 5 staff members.

Can I change plans at any time?

Absolutely. ScheduleBee is a monthly subscription service, and as such you are free to increase or decrease the number of employees in your system at anytime and your plan will be adjusted accordingly in the next billing cycle. There is no minimum or maximum number of employees you can have - We understand businesses can change rapidly, and we believe that your scheduling system should accommodate this.

What happens if I cancel my plan?

If you cancel your plan, you will continue to be able to use ScheduleBee for the remainder of the period you have paid for. At the end of this period, you will be required to resume your subscription to continue use of ScheduleBee.

What are the payment options?

We accept all major credit and debit cards including Visa, MasterCard, American Express, JCB, Discover and Diners Club.

Do you have other business software?